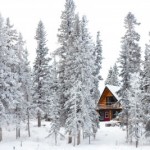 Winterizing your cottage or cabin is a great way to prevent damages that cold winters can cause to a structure. Plumbing pipes need to be drained, appliances need to shut off and doors and windows should be properly sealed. While all this work is well worth the trouble, it's not always necessary when you properly insulate your cabin. In fact, with the right insulation, you can enjoy your winter cabin year round. Use these tips to winterize your cabin and you'll be sure to get the most out of your summer retreat.
What Needs to Be Insulated?
Your cabin needs to be well insulated to protect against the damages the wet and cold winters can cause. With an insulation system that has the right R-value, you can easily use your winter cabin all year long. The following areas of your cottage need to be well insulated to keep your cabin cozy throughout the seasons.
Crawlspaces- These areas must be accessible and provide enough space to warrant insulation.
Walls- Existing walls can be insulated easily using a polyurethane foam insulation injected in wall cavities.
Attics- Rafters and attic spaces should be accessible as well. Spray foam insulation works well in these tough to insulate spaces.
Basements- Vapor barriers are important in damp basements. Insulation systems must also be able to wick away any moisture that penetrates the insulation system.
Skirting- Cold air can easily enter through the flooring when improper skirting is installed.
R-Value Considerations
Whether you have a small one bedroom cabin or a huge summer cottage, choosing the correct R-value is crucial to ensuring your cabin survives the ravages of winter. It's recommended that at least an R-value of 20 is installed under the flooring while an R-value of 40 is necessary to prevent rising warmth from escaping through the ceiling. If you're not sure what R-value you need in your cabin, the experts at Spray on Systems can help you figure it out.